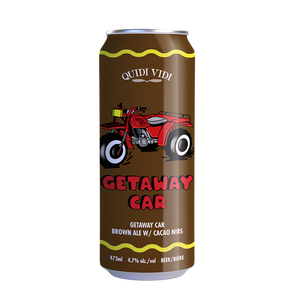 Getaway Car - Brown Ale W/ Cacao Nibs 473ml Can
Regular price
$5.47
$0.00
Unit price
per
Tax included.
Shipping
calculated at checkout.
4.7%  Alc./Vol. Beer/Bière Forte
Cacao nibs give a light chocolatey aroma to malt flavours of rich caramel and bread crust.  The lightly sweet body gives way to a dry and herbal finish. 
This is year 5 for Quidi Vidi Brewery's collab with the Newfermenters. We hold a brewing
competition and then a bottle share. It's a chance for the community to hang out and sample each other's brews. This is Getaway Car by Matthew Peddle and Brian Hogan.
We're proud to showcase another year of designs from Murray Brokenshire (@murrmosavich on Instagram)
---